Augment Your ICS Security Team Leveraging Dragos Technology and Expert Analysts
Your job is a daunting one: finding IT talent with deep OT expertise, or OT talent with advanced cybersecurity experience to secure OT assets can be extremely challenging. What you need is a trusted partner and an integrated solution with the people, processes, and technology to elevate your situational awareness with a proactive, intelligence-led approach.
Managed ICS/OT Threat Hunting & Notification Triage

Access to industry-leading ICS analysts
Access an elite team of Dragos analysts, backed by more than 700 years of ICS cybersecurity experience

Reduce mean time to discovery
Reduce the risk of attackers going undiscovered for an extended period of time, affecting the availability of key processes and safety systems

Enhance situational awareness
Establish a solid baseline and receive regular reports of changes in ICS asset characteristics and behaviors

Amplify your Security Operations Center (SOC)
Dragos analysts can act as, or extend, your threat hunting team to provide enhanced coverage

Proactive, intelligence-driven threat detection
Threat hunts based on immediate insight of the newest global ICS threats and adversaries

Global, shared insights
Global intelligence from Dragos' insights learned from defending ICS environments
Augment short-staffed SOC Teams
Ease of Deployment
Ease of deployment & maintenance of the Dragos Platform via the cloud & Cloud-scale telemetry enables integration of Dragos data
Recurring Checkups
Recurring environmental checkups and Platform tuning & routine, proactive intelligence-led threat hunts based on the latest IOCs and TTPs
Dedicated Team
Dedicated team of Dragos Industrial Hunters to remotely monitor and hunt in your OT environment and triage high severity alerts
IR Support
Combined with an Incident Response (IR) Retainer, the Dragos team will support IR activities – helping reduce time to respond and recover
The Dragos OT Watch team, enabled by Dragos Platform technology, provides a level of visibility into our assets, threats, and vulnerabilities that we did not have the expertise nor the bandwidth to do on our own.
Doug Short
CIO & CISO , Trinity River Authority of Texas
EXPERT-DRIVEN THREAT HUNTS
Leveraging 700+ years of ICS threat hunting and responding experience, Dragos Industrial Hunters are expert analysts routinely hunting for new ICS threats in your environment using the in-depth capabilities of the Dragos Platform technology. This team has faced off with some of the most pernicious OT cybersecurity threats of the modern era, including the 2015 Ukrainian power grid attack, the 2016 Ukrainian CRASHOVERRIDE malware breach, and the 2017 Saudi petrochemical strike involving TRISIS malware.
MEET OUR EXPERTS
Flexible Deployment
Flexible deployment with ruggedized sensors installed on-site and a cloud-deployed instance of the Dragos Platform. This configuration allows for remote, passive monitoring by Dragos Industrial Hunters and tuning and updating with the latest Knowledge Packs as soon as they're released.
View Deployment Diagram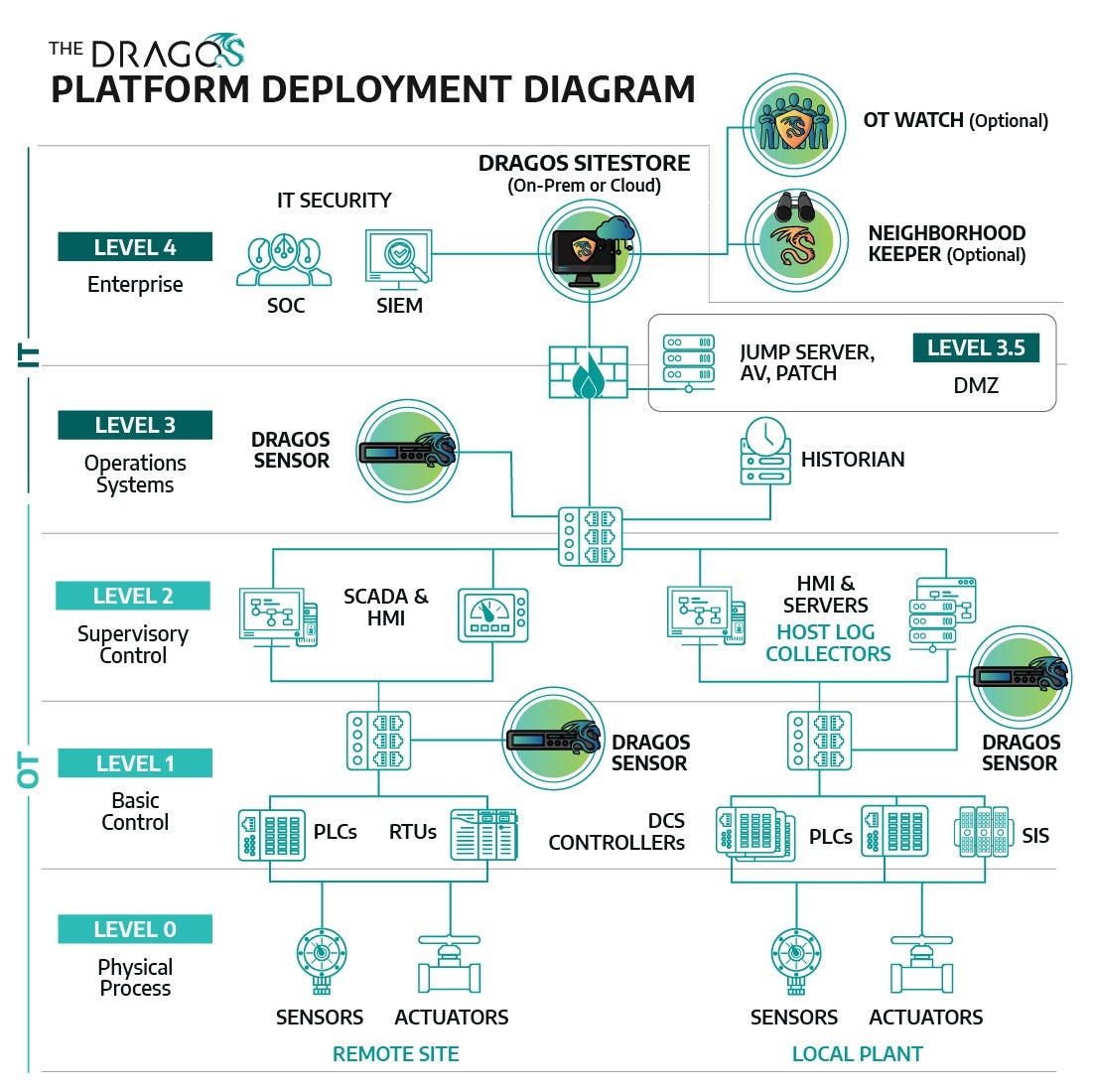 Cyber threats don't wait. Neither should you.