For industrial organizations in electric, oil and gas, and manufacturing, cloud services and migrations have the potential to unlock new business capabilities, reduce costs, and improve production uptime. To successfully enable these benefits, industrial organizations must establish a strong cybersecurity foundation for their digital transformation initiatives by identifying the threats and vulnerabilities that matter and appropriately managing the security risks that could impact their industrial control systems (ICS) and operational technology (OT) environments.
To address these challenges, Dragos is pleased to announce our relationship with Amazon Web Services (AWS), that includes:
Strengthened work to secure our customers' digital transformation efforts
Availability of the Dragos Platform for purchase in AWS Marketplace
Support for Dragos SiteStore and Dragos CentralStore on the cloud
Secure and Manage ICS Cyber Risk on the Cloud with the Dragos Platform
Dragos, a member of the AWS Partner Network (APN), helps industrial organizations gain the confidence required to accelerate adoption of AWS services to improve industrial operations by providing foundational OT cybersecurity capabilities.
When deployed on the cloud, Dragos leverages the power of AWS to provide users the flexibility and scalability of a cloud deployment to defend OT environments combining on-premises Dragos Sensors with cloud-hosted Dragos CentralStore and Dragos SiteStore for remote management and monitoring.
The Dragos Platform, an ICS cybersecurity technology, provides comprehensive visibility of your ICS/OT assets and is built to analyze multiple data sources including protocols, network traffic, data historians, host logs, asset characterizations, and anomalies. Customers gain comprehensive ICS/OT vulnerability management with corrected and enriched risk scores, and prioritized guidance that enables customers to manage the full lifecycle of specific vulnerabilities in their environment. Additionally, the Dragos Platform provides accurate threat detection that rapidly pinpoints malicious behavior on your ICS/OT network, and provides in-depth context of alerts, while reducing false positives for actionable threat detection.
Dragos Neighborhood Keeper is an opt-in program provided with the Dragos Platform that strengthens your cybersecurity posture by offering insight into the prevalence of real-world threats. Companies benefit from a collective defense and community-wide visibility solution that provides a more effective industrial cyber defense by anonymously sharing threat intelligence at machine-speed across industries and geographic regions. This collective defense solution focused on serving the ICS community enables participants to request and offer assistance and collaborate with trusted program partners.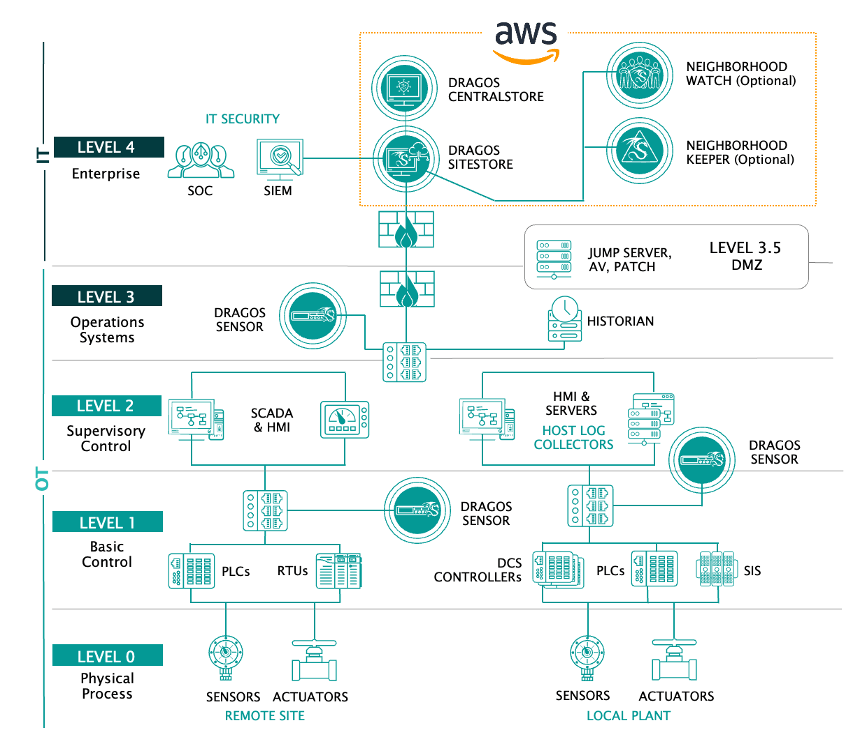 The Dragos Platform Available in AWS Marketplace
Additionally, the Dragos Platform is now available for purchase in AWS Marketplace, which allows customers to benefit from simplified procurement, consolidated billing, and the ability to use their committed spend with AWS to purchase the Platform. Customers adopting new cloud-native technologies to enhance their industrial operations can more quickly and easily expand their industrial cloud projects to include the Dragos Platform for OT asset visibility, threat detection, vulnerability management, and investigation and response.
The Dragos CentralStore on the Dragos Cloud
The Dragos Platform now supports the Dragos CentralStore for customers who prefer to deploy it as a Dragos-managed SaaS solution. The Dragos CentralStore joins the Dragos SiteStore as a component of the Dragos Platform that can be deployed and managed on the Dragos Cloud, Powered by AWS.
The CentralStore aggregates multi-site data collected and analyzed from multiple Dragos Platform SiteStores. It brings enterprise-scale OT visibility, detection, and response to companies looking for consistent, centralized risk management and reporting and who don't want to compromise operational effectiveness for operational efficiency at scale.
With Dragos and AWS, industrial organizations can more confidently address the cybersecurity challenges inherent in the digital transformation of their OT environments. The Dragos Platform now available in AWS Marketplace ensures that our customers can more efficiently secure and manage ICS/OT cyber risk in the cloud.
Learn more about Dragos's work with AWS.
Ready to put your insights into action?
Take the next steps and contact our team today.