Dragos Training
Strengthen your team's ICS cybersecurity skills with hands-on training from our world-class experts and improve their ability to prevent, detect, and respond to cyber attacks in your OT environment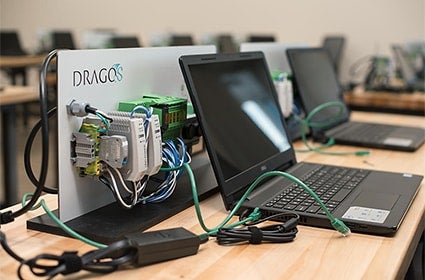 Assessing, Hunting, and Monitoring Industrial Control System Networks
This intensive 5-day, hands-on course covers ICS basics and security best practices, assessing industrial environments, ICS threat hunting, and industrial network monitoring. In addition to its classroom component, this course includes many hands-on labs and activities to reinforce the concepts learned.
Where
Online and In-Person
Course Fee
$3,000 / per student for customers*
$4,500 / per student for non-customers*
Dragos ICS Training is available to Dragos customers as well as asset owners and operators in a classroom environment.
IT and OT security professionals seeking to increase their knowledge of ICS security best practices and Dragos' industrial security methodologies and technologies
IT security professionals who want to expand their knowledge of industrial environments and how securing them differs from IT environment
Please note: COVID-19 vaccination is required for attendees.
State-of-the-art training center includes multiple ICS cyber ranges and individual training stations with mini control system kits that enable true hands-on learning
Course instructors are drawn from Dragos' team of ICS cybersecurity experts
During the class, students will apply concepts learned using various tools during labs. One of the tools covered is the Dragos Platform.
Linux operating system fundamentals, including basic command line usage
Conceptual knowledge of programming/scripting
Solid grasp of essential networking concepts (OSI model, TCP/IP, networking devices, and transmission media)
Understanding of basic security concepts (e.g. malware, intrusion detection systems, firewalls, and vulnerabilities)
Some familiarity with network traffic inspection tools (Wireshark, TShark, or tcpdump) is highly recommended.
* Excluding Dragos CyberLens and Dragos Training. Continuing professional education credits are provided upon completion of the course.
Instructors are subject to change.
Course Enrollment
Feb 7-11, 2022
10-18 AEDT
Instructors
Julian Gutmanis, Seth Enoka
Mar 21-25, 2022
Hanover, MD
9-17 EDT
Instructors
Austin Scott, Mark Heard
Apr 18-22, 2022
Melbourne, AU
9-17 AEST
Instructors
Julian Gutmanis, Seth Enoka
May 23-27, 2022
Houston, TX
8-16 CDT
Instructors
Mike Hoffman, Lesley Carhart
Jun 20-24, 2022
Hanover, MD
9-17 EDT
Instructors
Jim Gilsinn, Vern McCandlish
Jul 25-29, 2022
Melbourne, AU
9-17 AEST
Instructors
Julian Gutmanis, Seth Enoka
Aug 22-26, 2022
10-18 EDT
Instructors
Austin Scott, John Guptill
Sep 19-23, 2022
Houston, TX
8-16 CDT
Instructors
Mark Heard, Vern McCandlish
Oct 31-Nov 4, 2022
9-17 EDT
Instructors
Jim Gilsinn, Mark Heard
Instructors
Mike Hoffman, Lesley Carhart
Course Syllabus
Students will learn about the various types of ICS environments, as well as their functions and compositions. Other topics covered will include: ICS network architectures, various types of devices, industrial programming languages such as ladder logic, and ICS communication protocols such as ModbusTCP, DNP3, and Profinet.
Students will act as a Red Team member and learn how to safely assess ICS environments. Four types of assessments will be covered: architecture review, vulnerability assessment, penetration testing, and red team. Students will use purpose-built red team virtual machines to assess their environments.
Students will be exposed to attacks modeled after real-world advanced threats while acting as SOC analysts, performing continuous monitoring, investigation, case management and other SOC-related responsibilities using the Dragos Platform.
Students will learn Dragos' threat hunting methodologies, including: planning, hypothesis generation, collecting and analyzing data, and automating lessons learned post-hunt. They will then act as threat hunters through a variety of scenarios covering industrial networks and network/host artifacts.
Our Instructors
Frequently Asked Questions
Phoenix Contact and Schneider Electric
During class students are lead through realistic scenarios that use the Phoenix Contact and Schneider Electric PLCs in the same way they might be used in an operating environment. A particular hands-on exercise for the Phoenix Contact requires participants to review a PCAP for the Modbus protocol, as well as 41 100 and 1962. A variety of other protocols are found and discussed as well: IEC 14, DN3, ProfiNet, CIP, and S7com.
The labs allow participants to perform various tasks independently with open source tools that are commonly used in the industry, and then at the end of class, participants perform an end-to-end capstone hunt in the Dragos Platform to simulate tasks that occur in real-life, daily operations and illustrate how those tasks could be accomplished.
The SANS-515 class covers incident response only. Our class goes into explanation of ICS, pentesting and threat hunting. It explores different use cases within each category to be able to relate to the customer daily operations. Our class exposes students to both open source and Dragos tools to provide many options for learning the various technology available. Our instructors really hones in on the thought processes of analyzing data and applying that analysis rather than explaining only how tools work. The students are also exposed to a capture-the-flag scenario as well as individual labs within each module, which is a week-long immersion into ICS, culminating in an end-to-end capstone hunt. Content-wise, the Dragos course would be considered as a 500- or 600-level class and is definitely beyond the SANS-410 class and contains more expansive information than the SANS-515.
At least two instructors will present the class concepts, as well as guest speakers, allowing for more details from their direct experiences in the ICS field. Often discussions lead into how these concepts would be applied in that customer's environment, allowing other participants in class to relate stories of their wins and fails, giving relatable guidance to their peers.
Students will receive a copy of the manual with the slides and our notes, as well as the student workbook that has all the labs, questions and answers, and work that the student will do. In-person classes get a physical book, virtual classes get a PDF of each book.