Datasheet
OT Cybersecurity Solutions for Implementation of IT-Sicherheitsgesetz 2.0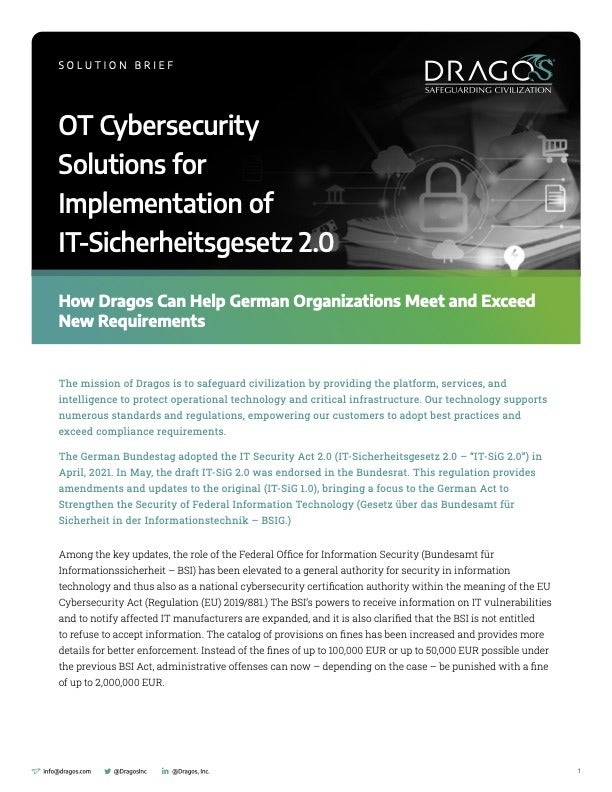 The German IT Security Act 2.0 (IT-Sicherheitsgesetz 2.0 – "IT-SiG 2.0") provides amendments and updates to the original (IT-SiG 1.0), bringing a focus to the German Act to Strengthen the Security of Federal Information Technology (Gesetz über das Bundesamt für Sicherheit in der Informationstechnik – BSIG).
The Key Updates in this Directive Include:
Elevated role of the Federal Office for Information Security (Bundesamt für Informationssicherheit – BSI) to a general authority for security in information technology and thus also as a national cybersecurity certification authority
Expanded BSI powers to receive information on IT vulnerabilities, notify affected IT manufacturers, prohibit the use of "critical components" if they undermine public order or security, and more
Updated and simplified data protection requirements
Clarified product-related rules
Inclusion of companies from the supply chain of the newly introduced "companies of particular public interest" category
To learn more about the updates and how your company can ensure compliance, download our solution brief.
Download Datasheet
Discover more resources.
Explore more resources to support you on your ICS cybersecurity journey.
Ready to put your insights into action?
Take the next steps and contact our team today.