Blog Post
Dragos Webinar Series: Secrets of ICS Cybersecurity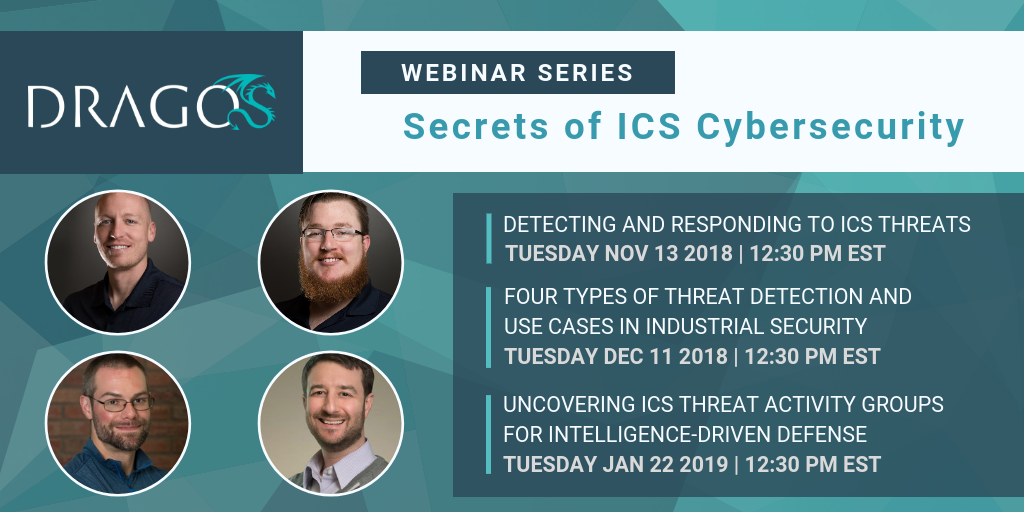 Dragos is excited to announce a 3-part webinar series on different aspects of ICS cybersecurity. This 3-part series will take participants through a brief introduction to ICS cybersecurity and intelligence-driven cybersecurity, dive deeper into the four types of threat detection and use cases in industrial security, and provide a synopsis of the different adversary groups discovered by the Dragos approach.
Detecting and Responding to ICS Threats With the Dragos Platform
Date: Tuesday, November 13, 2018
Time: 12:30 – 1 pm EST (30 minutes)
Speaker: Mark Stacey
Abstract: Industrial control systems cybersecurity brings together differing needs of OT and IT networks. This brief 30 minute webinar will cover how the Dragos ICS threat detection and response platform leverages an intelligence-driven approach that is different from anomaly detection solutions to create an effective and efficient security approach.Attendees will learn:
Why the Dragos ICS cybersecurity approach is different
What is an intelligence-driven approach
How to enable your ICS security teams with an intelligence-driven approach
Slides and recording available here: https://www.slideshare.net/DragosInc/detecting-and-responding-to-ics-threats-with-the-dragos-platform-122928430
The Four Types of Threat Detection and Use Cases in Industrial Security
Date: Tuesday, December 11, 2018
Time: 12:30-1:30 pm EST (60 minutes)
Speakers: Robert M Lee and Sergio Caltagirone
Abstract: There is a considerable amount of market confusion around the types of threat detection, how they are derived, and the uses for each. In this webinar, Sergio Caltagirone and Robert M. Lee of Dragos, Inc., will address those challenges by identifying the four types of threat detection and offer sample use-cases focused on industrial control system (ICS) and industrial internet of things (IIoT) environments, so you can learn more about identifying the best threat detection method for your ICS organization.Attendees will learn:
The four types of threat detection
How each type is derived and use cases for each
How to apply the different types of threat detection in an ICS environment
Identifying the best threat detection method for your needs
Uncovering ICS Threat Activity Groups for Intelligence-Driven Defense
Date: Tuesday, January 22, 2019
Time: 12:30-1:30 pm EST (60 minutes)
Speakers: Sergio Caltagirone and Joe Slowik
Abstract: Over the past year Dragos has released information about eight threat activity groups that have targeted industrial companies. These groups range from espionage, to learning industrial environments for future effects, to causing a power outage and targeting human life directly. But what are threat activity groups? They are different than what is normally tracked in the community as threat actors and have a different focus for defenders. This presentation will highlight what activity groups are, what Dragos' approach has been with them for identifying ICS threats, and how they serve as the basis for the threat analytics which fuels the intelligence-driven approach Dragos takes in our software and services.Attendees will learn:
What are threat activity groups
What is Dragos' approach for identifying ICS threats
How threat analytics fuels an intelligence driven approach
Why intelligence is a critical component of ICS threat detection and response
Ready to put your insights into action?
Take the next steps and contact our team today.