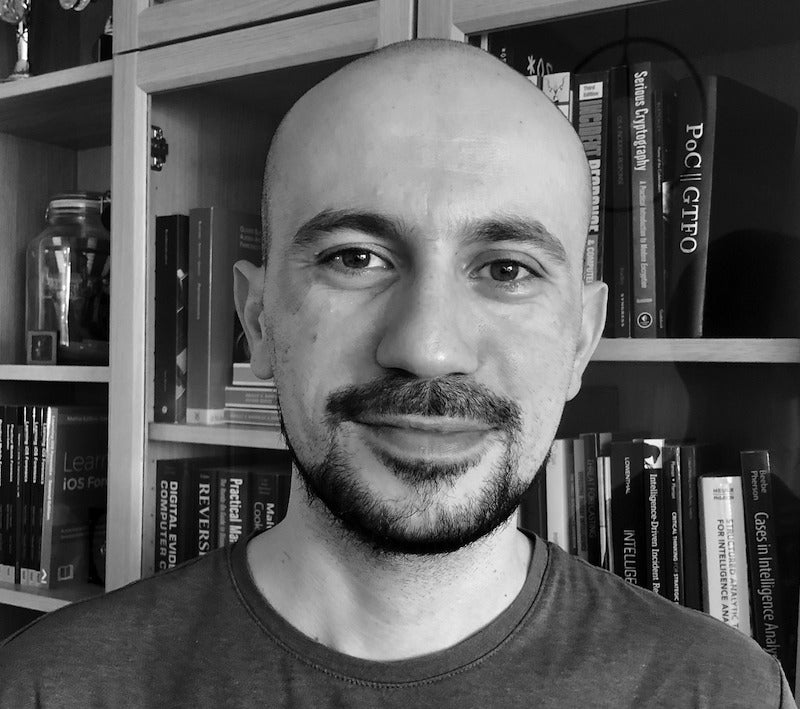 Certifications
GCTI – Giac Cyber Threat Intelligence
GCFA – Giac Certified Forensic Analyst
GREM – Giac Reverse Engineering Malware
OPST – OSSTMM Professional Security Tester
OWSE – OSSTMM Wireless Security Expert
ECCE – European Certificate on Cybercrime and Electronic Evidence
Pasquale Stirparo is a Principal Adversary Hunter with the Threat Intelligence team at Dragos. He has worked in Digital Forensics (DFIR) & Threat Intelligence for over 13 years in various roles and industries.
Before joining Dragos, Pasquale was Security Incident Manager at the Google DFIR team. He also worked as part of the DFIR and Threat Intelligence teams in the Financial sector, at the Joint Research Centre (JRC) of European Commission, and at a small consulting firm.
Outside of these official roles, Pasquale was involved in the first development of the Digital Forensics standard "ISO/IEC 27037", served as a member of the FS-ISAC EMEA Threat Intelligence Committee, and wrote two books on "Learning iOS Forensics." He is currently Research Associate at the Centre for Technology and Global Affairs at Oxford University and runs the local BSides conference in Zurich.
Formal Education
B.Sc. Computer Engineering (Polytechnic of Turin, Italy)
M.Sc. Computer Engineering (Polytechnic of Turin, Italy)
Ph.D. Information and Communication System Security (KTH Royal Institute of Technology, Sweden)
"State-Sponsored Cyber Threat Actors" Summer Program of the School of Advanced International Studies (SAIS) at Johns Hopkins University
Want Pasquale's frontline perspective for an upcoming event or news feature? Send your request to press@dragos.com